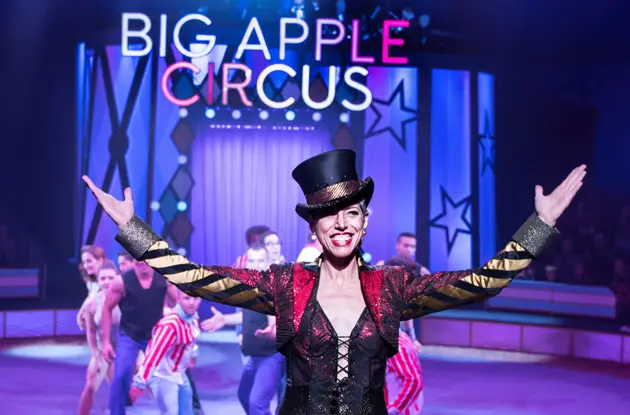 Top 10 Kid-Friendly Holiday Shows for Families in New York City
We found the best family-friendly holiday shows in Manhattan!
Get kid-friendly activities sent to you!
Get the Best Kid-Friendly Activities
Sent to You Weekly!
A Christmas Carol
Of all the holiday shows starring grumpy old Ebenezer Scrooge, this is the big one. The off-Broadway musical, presented by Be Bold! and Players Theatre, translates the classic Dickens tale into a live production featuring all the usual suspects. Even if you know the story by heart, which surely most of us do, this lively adaptation is still sure to jump-start your holiday spirit.
Where: Players Theatre, 115 MacDougal St., Greenwich Village
When: Through Dec. 30; see the website for show times.
Running Time: Approximately 1 hour (does not include pre-show workshop)
Ages: Recommended for ages 3 and older
Tickets: $25-$60
FYI: An interactive arts workshop (included in ticket price) precedes the 11am show on Sundays.

Kwanzaa Celebration: Regeneration Night
The Apollo's annual Kwanzaa Celebration returns with the renowned and energetic New York-based dance company, Abdel Salaam's Forces of Nature Dance Theatre. It is an evening of joyful dance and music, hosted by WBLS personality Imhotep Gary Byrd, that honors the principles of Kwanzaa: family, community, and culture.
Where: The Apollo Theatre, 253 W. 125th St., Harlem
When: Dec. 29, 2pm and 7:30pm
Running Time: Approximately 2 hours
Ages: All
Tickets: $20-$35

Angelina Ballerina: A Very Merry Holiday Musical
Angelina and her friends are planning an absolutely positively spectacular holiday dance pageant—the best in all of Mouseland! When a mix-up prevents the pageant from going on, Angelina and her friends must use their creativity to save the show. By working together, Angelina, Alice, Gracie, AZ, Marco, and Angelina's little sister, Polly, discover the true spirit of the holidays. It's not about things you receive, but the holiday cheer you share. With dancing, singing and festivities, this heart-warming musical is perfect for everyone's holiday season!
Where: McGinn-Cazale Theatre, 2162 Broadway, 4th floor, Upper West Side
When: Through Jan. 6, 2019; see website for show times.
Running time: 1 hour
Ages: 2-7
Tickets: $30 and up

The Little Dancer: A Holiday Family Musical
The Little Dancer is a heartwarming story of how a young girl became the most famous ballerina in the world.
Where: Theatre 71, 152 W. 71st St., Upper West Side
When: Through Dec. 23, Saturday-Sunday, 11am and 1pm; Dec. 26-31, daily 11am and 1pm
Running time: 55 minutes
Ages: 5 and older
Tickets: $50 and up

FunikiJam's Holiday Beat
Part live concert and part stage show, FunikiJam's HOLIDAY BEAT is New York City's only off-Broadway show for kids this season to celebrate Christmas, Hanukkah, Kwanzaa, Diwali, Chinese New Year, and Shichigosan.
When: Through Dec. 30, Sundays, 11am
Where: Actor's Temple Theatre, 339 W. 47th St., Hell's Kitchen
Running time: 1 hour
Ages: 10 and younger; lap-sitting infants don't need a ticket.
Tickets: $30

RELATED: Get more events like these in your inbox!