From infancy through the college years, the Westport Weston Family Y has programs and activities for children at the Post Road building and at our Mahackeno campus. We offer NAEYC-accredited child care, before and after-school programs, group fitness classes, age-appropriate strength training, performance and dance classes, team sports, parent/child activities, Teen Leaders Club and programming for individuals with special needs. We have plenty of programming for parents as well, with the offer of free babysitting for younger children while mom or dad is working out.
Child Care
The Westport Weston Family Y Early Learning Programs, which has been recognized by the National Association for the Education of Young Children, provides top quality, developmentally appropriate care to meet the needs of families who live and work in Westport, Weston and surrounding communities.
School Age
The Westport Weston Family Y After School programs provide a safe, fun and educational environment for 1st through 5th grade children from the time the school day ends until 6:00 pm. School half days are included from dismissal time if they fall on your child's regularly scheduled day. We offer After-School Programs for all Westport and Weston students.
Camp Mahackeno
Since 1938, the Mahackeno Outdoor Center has been the setting for our Family Y's summer day camp. For the 2013 season, Camp Mahackeno will be collaborating with another Westport institution, Earthplace, the Nature Discovery Center, so we can continue to serve our campers and families during the construction of our new Y facility at Mahackeno.

This wonderful opportunity will allow us to have yet another great summer in a beautiful outdoor setting here in Westport. Earthplace and the Family Y are working together to plan a summer with fun activities and themes, great staff and many opportunities for campers to make new friends and memories.

The program is for campers who are entering 1st grade through 8th grade. Earthplace will continue to welcome preschoolers age 3 to Kindergarten to camp.

Just minutes away from Mahackeno, located at 10 Woodside Lane, Earthplace offers acres of hiking trails, playgrounds, play spaces, wildlife exhibits and more. Campers will be able to participate in free swim 4 days a week at the Y's downtown facility and take part in weekly field trips to fun locations in our area. Camp will run in one-week sessions from 9 am to 4 pm each day. There are extended care options starting at 8 am and extending until 6 pm. Parents will drop off their children and pick them up at Earthplace.
About the Dance Center
The Westport Weston Family Y Dance Center has been providing quality Ballet, Pointe, Jazz, Modern, Hip Hop and Creative Children's Classes for children, teens, and adults for over 25 years. The school offers a full spectrum of programs for students ages 2 to adult.
Fitness Center
7th Grade Membership
Free memberships for Westport & Weston 7th Graders! The Family Y would like to help our youth choose a lifestyle that includes physical activity, character values and community involvement. The Westport Weston Family Y is proud to offer the 7th Grade Membership Initiative as a way to better engage, educate and connect to our youth, right when they need it most. With this membership, 7th graders have access to the basketball gyms, pool, fitness center, group expercise classes and spinning classes. The Y also offers other activities such as Youth Nights, special events and volunteer opportunities.
Youth/Teen Fitness
At the Westport Weston Family Y we offer a variety of programs and classes for youth/teens to maintain a healthy and active lifestyle.Whether you participate in team sports, want to become more active, learn the proper way to workout or just want to have fun exercising with your friends we welcome you. Our strength training program provides proper supervision and guidance to promote physical fitness as well as a positive self image.The benefits are improved sports performance, injury prevention,and increased strength, cardiovascular and flexibility.
Youth Fitness
Wellnes Center Youth Policy
The Westport Weston Family Y is committed to providing health and wellness opportunities for all ages. To ensure the safety of our members, the following policies will apply for youth ages 10 through 14.
Youth Gymnastics
Under the direction of Sally Silverstein the Family Y Gymnastic Center bursts with activity day and night! Gymnastics is offered for all ages and abilities from Toddlers through High School. Our highly experienced and safety certified coaches identify individual strengths and help students excel with emphasis on fun, movement and fundamentals.

Participants work on the mats, balance beam, parallel bars, uneven and vaults, grouped according to ability. For class placement questions call Sally Silverstein at 226-8981 x118. Leotards required. Membership required for all gymnastics classes
Hafaday Swim Lesson Program
Register NOW for Hafaday Summer Swim Lesson Program!

Sessions fill quickly for this amazing summer program, which gives children the vital chance to build swim skills, regardless of previous experience, and have a lot of summer fun.

Designed for children ages 4 to 8 and held each weekday from 8:45 am to 12:30 pm, Hafaday is primarily a swim program, with both a lesson and a free swim period each day. It's the best way to learn to swim. Arts and crafts, music and gym time, including yoga, karate, and games round out each morning of fun.

We have 9 weekly sessions, beginning Monday, June 17 and continuing on through the week of August 12. Students in swim lessons are grouped by age and ability. The cost for Y Members is $270per week; $295 for non-members.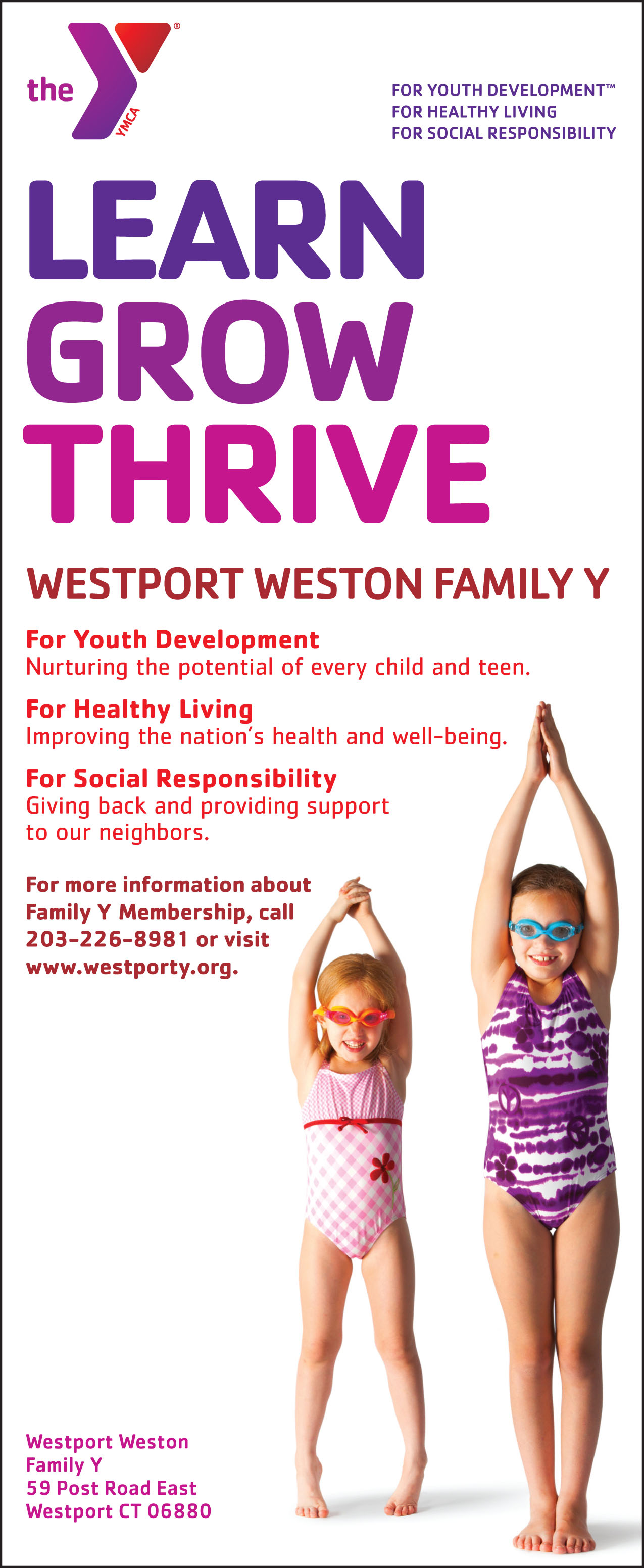 Hurricane Sandy News - Westport Weston Family Y Posted: 11/12/2012

Fitness Classes will be held all week Nov. 12-18 at Christ Holy Trinity Church and Westport Senior Center. Check westporty.org for details.
westporty.org
203-226-8981
HEALTH
The Westport Weston Family Y offers programs and activities for children from infancy through high school, including NAEYC-accredited child care, after-school programs, summer camps, group fitness classes, and strength training for teens, and programming for children with special needs. The Y has a wide range of youth sports and recreation classes year-round, from dance to gymnastics to swimming and more, as well as competitive swimming, gymnastics, and basketball teams. We have parent/child activities and plenty of programming for Mom and Dad, with free babysitting for younger children.

Share the excitement! Jennifer Seirup is now Director of Camp Mahackeno at the Westport Weston Family Y. A long-time member of the family, Jennifer started as a camper and has held just about every position at Mahackeno. Give your child the opportunity to start building a lifetime of Family Y memories and maybe even become part of the Family Y team. Check out the details on the website. Online registration for summer camp begins January 11th.
Want to learn more about this business? Send them a direct inquiry.
Be a good fellow parent and share this with a friend who would be interested
Read More on NYMetroParents.com:
Grammy Nominated Matisyahu Helps Spread Anti-Bullying Messages on YouTube
Grammy Award-nominated Matisyahu invites artists to spread messages of anti-bullying and self-empowerment by submitting their own covers of the song "Live Like a Warrior" on YouTube.

Summer Activities in Westchester County, NY Part 2
Do you need great summer activities for kids in Westchester County, NY? Use our guide to find kids classes, Westchester summer camps, summer programs, activities near Westchester County, and family excursions close by. Summer activities in Westchester are at your fingertips.

Summer Activities in Westchester County, NY
Do you need great summer activities for kids in Westchester County, NY? Use our guide to find kids classes, Westchester summer camps, summer programs, activities near Westchester County, and family excursions close by. Summer activities in Westchester are at your fingertips.

Olympic Gold Medalists Help Host Official Swimming Safety Days in NYC
Olympic gold medalists Cullen Jones and Rowdy Gaines kick off USA Swimming Foudation's "Make a Splash" tour at the Empire State Building where New York City Mayor Michael R. Bloomberg names May 16-18 as "Swimming Safety Days."

Brooklyn Congregation Donates 65,000 Meals to Hurricane Sandy Victims
Congregation Beth Elohim in Park Slope has donated and delivered more than 65,000 meals to victims of Hurricane Sandy since the storm struck late last October.

Guiding Eyes for the Blind Hosts Annual Guiding Eyes for the Blind Golf Classic with Eli Manning
Guiding Eyes for the Blind hosted spring tee-off for its annual Guiding Eyes for the Blind Golf Classic with New York Giants quarterback Eli Manning at Mulino's of Westchester in White Plains.

Actress Jessica Alba Hosted The Ultimate Baby Shower For A Local Queens Mom
Actress Jessica Alba hosted a baby shower to honor a local mom who's making a difference. Floral Park, Queens resident Perminder Thiara was the lucky winner and they celebrated in downtown Manhattan on May 7.

4 Ways to Make Dad Feel Extra-Special on Father's Day
This Father's Day, teach the kids to show just how special dad is to the family with these five tips that will help dad feel extra-special.

The Best of the Rest of the Web: Summer Camps, Father's Day, and Adoption
From the NYMetroParents June summer activities issue, a selection of thought-provoking, laugh-inducing, and just plain interesting facts and quotes from the web and the world of parenting.

WeeZee World of Westchester Celebrates One-Year Anniversary
WeeZee World of Westchester, a family play space full of sensory adventures for children, celebrated its one-year anniversary on April 26, in conjunction with National Sensory Awareness Day.