Blais Orthodontics
2 Overhill Road, suite 300
Scarsdale, NY
914-472-9595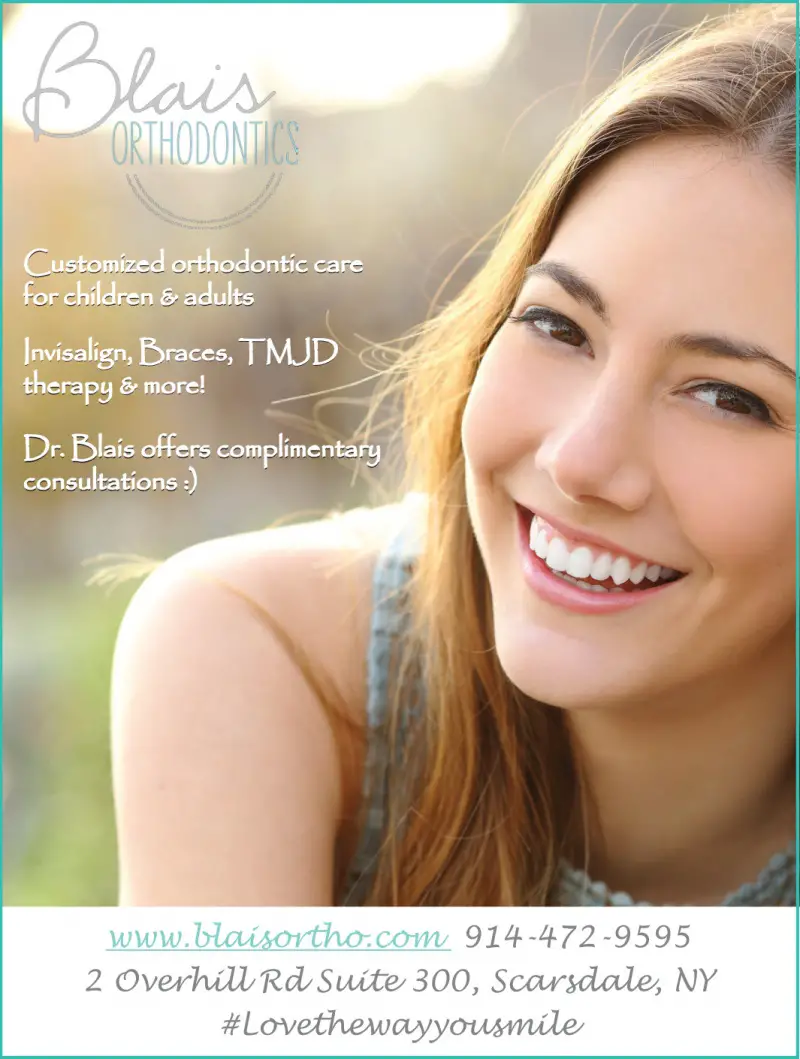 Our Practice
State-of-the-art equipment with a digital, paperless office

Clear and Metal Braces, Invisalign and TMJD treatment

Early intervention, habit control, and airway assessment

Customized treatment plans for young children with habits, as well as adolescents and adults

Very good with apprehensive patients

You are treated in a beautiful, sunlit, airy office to put you at ease while being treated
Merissa Blais, DDS
Love the way you smile!
We often hear that the best profession is the one you enjoy the most. For me, nothing could be more accurate. Orthodontics is the perfect amalgamation of art and science. I feel that my patients deserve my undivided attention and the highest quality orthodontic care available. The experience is just as personal for me as it is for you, thus I take tremendous pride in offering each patient honest, tailored, individualized treatment to achieve a beautiful, natural smile and an ideal bite, while having fun along the way! I want to make this process easy!
Everyone should love the way they smile and love the way they feel when they show off their new, gorgeous, confident smile! I aim to instill that confidence in all of my patients, both in children and adults alike. I'm here to care for your smile, your bite, and for you.
My training at Columbia School of Dental Medicine and the University of Pennsylvania prepared me well to treat young children, adolescents, and adult multi-disciplinary cases and to build faces and smiles that are healthy, airway-centric, and youthful. We do dental orthopedics, braces and Invisalign.
Dr. Merissa Blais treats her patients how she would treat her own family–with a meticulous eye and a gentle touch, informing the patients and their families of their options and progress throughout treatment. As an Ivy League trained doctor, Dr. Merissa Blais is committed to seeing everything through from A to Z and also enjoys becoming a part of her patients' lives at the same time. "It is such a wonderful feeling to see progress and the huge smile that accompanies it. So exciting!". Our orthodontist and her team's detail-oriented care will produce stellar results that you will show off forever!
Reviews:
"Dr Blais has such a great touch with both younger and adult patients. It is such a pleasure to work with her. I love my smile!"
-L.L.
"My smile is gorgeous and I owe it all to Dr. Blais. The staff is superb and they are always on time"
-M.G.
"I had headaches and TMJ pain for years. When the pain became excruciating, I was referred to Dr. Blais. She worked magic! From the moment she began treating me, my pain was gone. She was able to realign my jaw and now, not only is my jaw aligned (no surgery, no pain!) but my teeth are straight as well. In addition, Dr. Blais and her staff are lovely to work with and extremely understanding and accommodating to an adult's work schedule."
-J.W.
Please send me information about Blais Orthodontics
Find More
FOOD & HEALTH

Dr. Blais, an Ivy League trained doctor, treats patients starting at age 5 through adulthood, with a meticulous eye and amazing patient care! Proper facial development and function are factors that Dr. Blais integrates into her treatment planning. It's not just about teeth, it's about health and beautiful faces!
Get the Best Kid-Friendly Activities
Sent to You Weekly!