The Alliance Française of Greenwich is a vibrant community of francophones and francophiles that encourages and furthers the knowledge of French culture and language through French classes and various activites.
Pre-School
The Alliance Française of Greenwich Pre-School is a program dedicated to helping children develop a strong foundation in the French language, and to instill in them an appreciation for the French culture. Meeting three days a week for three hours in the morning each day, AFG Preschool students will build fundamental childhood skills including self-confidence, creativity, reasoning, socialization, and motor coordination through activities like music, drawing, storytelling, physical activity, and interactive games that are conducted entirely in French. Children of all levels of French are welcome – no previous experience is needed to enroll.
After-School Program

The After-School Program is designed to provide students with maximum exposure to French language and culture for an hour or an hour and a half each week. Children will explore the French language through interactive games, storytelling, acting, and singing. The fundamentals of grammar will be introduced, and children will emerge with a strong foundation for further French studies.
Summer Camp
Tailored to the learning needs of children and teens, the AFG Summer Camp offers students throughout Fairfield and Westchester Counties the chance to immerse themselves in the French language and culture five days a week for three hours each morning. The children's program includes games, songs, skits, and other interactive activities designed to improve your child's French language skills while offering them a creative outlet. The teen program is discussion-based, concentrated specifically on strengthening conversational and writing skills. Whether a novice or a veteran student of French, each camper is bound to be both educated and entertained, and to emerge more confident in his or her language skills. Eleven weeklong sessions are open throughout the summer, accommodating as many interested students as possible.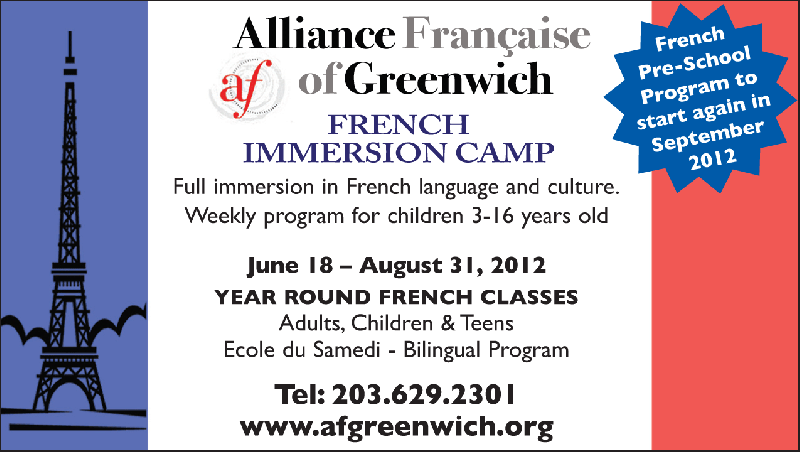 Want to learn more about this business? Send them a direct inquiry.
Be a good fellow parent and share this with a friend who would be interested
Read More on NYMetroParents.com:
Guiding Eyes for the Blind Hosts Annual Guiding Eyes for the Blind Golf Classic with Eli Manning
Guiding Eyes for the Blind hosted spring tee-off for its annual Guiding Eyes for the Blind Golf Classic with New York Giants quarterback Eli Manning at Mulino's of Westchester in White Plains.

NYC Youth Coach Wins Award for Teaching Basketball and Life Lessons
New York City youth coach is honored with the Positive Coaching Alliance's Double-Goal Coach Award for his basketball and life lessons and positive impact on young athletes.

20 Earth Day 2013 Events in New York City
Our list of 20 fun kids' events for Earth Day 2013 in New York City includes Earth Day and Arbor Day festivals, outdoor programs and volunteering events, and shows about Earth Day in the Bronx, Brooklyn, Manhattan, and Queens.

Special Needs Trusts FAQs and Online Resources
It's important for parents to set aside savings for their children, and especially essential for parents to save for their children with special needs. An option to consider when figuring out how to pay for medical costs and hospital care for your child with special needs are special needs trusts. Here, frequently asked questions about special needs trusts are answered by an attorney.

City Mouse, Country Mouse: Where Does Your Family Call Home?
In the debate of raising your kids in the city versus raising your kids in the suburbs, the most important thing to consider is what's best for your family. A Manhattan mother discusses the benefits of both, and what you should consider before moving to the 'burbs.

What to Watch at the 2013 New York International Children's Film Festival
The 2013 New York International Children's Film Festival will present more than 100 children's films and shorts at several theaters in Manhattan this March. Here, a sneak peek at the movies you won't want to miss.

Special Needs Trusts: Answers to Frequently Asked Questions
If you're thinking of creating a special needs trust or supplemental needs trust for a loved one, first read these answers to frequently asked questions, including how to set up the trust, who can access it, and what benefits an SNT has compared to other options.

Fun Valentine's Day Events for Kids in NYC
Find fun and low-cost things to do with your kids for Valentine's Day in NYC, including craft programs, cooking events, story time, family shows, and more in the Bronx, Brooklyn, Manhattan, and Queens.

7 Valentine's Day Events for Kids in Connecticut
These 7 fun and low-cost Valentine's Day events in Fairfield County, CT, include valentine crafts, baking workshops, and more in Bridgeport, Fairfield, Greenwich, South Norwalk, Westport, and Wilton.

A List of Cultural Festivals in the New York Metro Area
We're lucky to live in the New York metro area, a virtual melting pot of cultures. So if your budget doesn't allow for family jaunts to India, South Africa, and other exotic locales, you can still introduce your kids to the cultures of the world in your own backyard by attending one of these celebrations in Rockland, Westchester, Nassau, Suffolk, and Fairfield counties, as well as Manhattan, Brooklyn, and Queens.