Two Connecticut youth volunteers were recognized by the Prudential Spirit of Community Awards, a nationwide program, for their outstanding community service in Fairfield County.
On Feb. 5, Alison Forger, 16, of Monroe and Anna Murphy, 11, of Stafford Springs were named Connecticut's top two youth volunteers of 2013 by the Prudential Spirit of Community Awards, a nationwide program honoring young people for outstanding acts of volunteerism.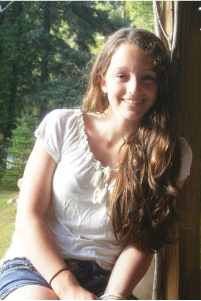 Courtesy Alison Forger
Alison, a junior at Masuk High School, promotes the love of reading and writing in young students through a club she organized that sends high school students to elementary school classrooms to assist with reading activities. When Alison was in eighth grade, her English teacher challenged her to use her love of reading and writing to benefit the community. Alison created Reading and Writing Rock, a student mentoring club that she has run for the past four years. "I wanted all of those students to be able to pick up a book or write a story and feel the same sort of happiness and satisfaction that I do," Alison says.
With the help of her English teacher, Alison recruited six fellow students and contacted local elementary school officials, who agreed to let the students visit their school once a week during English classes. The older students read to the children, helped them write stories, taught them about authors, and even organized plays based on their favorite books. Over the years, the club has grown to include 35 high school mentors in all three of the district's elementary schools.
In 2010, Alison won an essay contest sponsored by NBC Connecticut's Education Nation and was awarded $5,000. After soliciting input from elementary teachers involved in her program, she used the money to purchase more than 500 books for the schools. Last summer, she also worked with a local bookstore owner to hand-pick 100 books to stuff in backpacks for children in need. "I always tell other high school students how much fun it is to see the kids light up when you walk through the door," Alison says.
As State Honorees, Alison and Anna each will receive $1,000, an engraved silver medallion, and an all-expense-paid trip in early May to Washington, D.C., where they will join the top two honorees from each of the other states and the District of Columbia for four days of national recognition events. During the trip, 10 students will be named America's top youth volunteers of 2013.
The program judges also recognized four other Connecticut students as distinguished finalists for their impressive community service activities, including Lexi Kelly, 15, of Stamford. Lexi, a senior at St. Luke's School, raised more than $26,000 to support a wide variety of charitable causes through her youth-led organization Kids Helping Kids.
For more information on the Prudential Spirit of Community Awards, visit spirit.prudential.com.