---
Instead of hibernating this winter, celebrate the snowy season by hitting the slopes with the family. A day or weekend of skiing or snowboarding is a fun way to get some exercise and is sure to put a rosy glow into your little one's cheeks. Never skied/boarded before? No problem-these family friendly locations have beginner programs for all ages, and most offer day care for the tot who's not quite ready to strap on skis. Whether you're looking for a conveniently close bunny hill or a well-worth-it trip out to real snow country, have a look at our guide to find the best fit for you and your crew.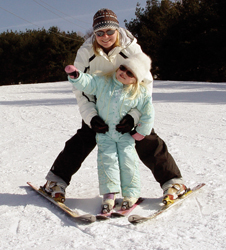 CONNECTICUT

Mohawk Mountain Ski Area
46 Great Hollow Road, Cornwall
860-672-6100 or 800-895-5222, www.mohawkmtn.com
The Parent & Tots program teaches parents how to ski safely with their 4-year-old child, while the child learns to ski; available Wednesday mornings, weekends, and holidays. Parent must be at least an intermediate level skier. Preregistration required.
Mount Southington
396 Mount Vernon Road, Plantsville
860-628-0954, www.mountsouthington.com
14 trails, most of which are beginner and intermediate level. Ski Threes, for parents and 3-year-olds, introduces toddlers to skiing while teaching parents to use tip connectors and harnesses while skiing. Preregistration required.

Ski Sundown
126 Ratlum Road, New Hartford
860-379-7669, www.skisundown.com
15 trails, two terrain parks, and night skiing. Group ski lessons for ages 4 and up; snowboarding for 7 and up.
Woodbury Ski Area
785 Washington Road, Woodbury
203-263-2203, www.woodburyskiarea.com
12 snow tube runs, three tubing parks, and night tubing. Learn to ski/snowboard group lessons and private lessons available.
WORTH THE TRAVEL...
Bristol Mountain Resort
5662 Route 64, Canandaigua, NY
585-374-6000, www.bristolmountain.com
33 trails, mostly intermediate, and two terrain parks. Ski lessons for children as young as 4, snowboard lessons for children as young as 6. Child care program for children as young as 18 months.
Gore Mountain
793 Peaceful Valley Road, North Creek, NY
518-251-2411 or 800-342-1234, www.goremountain.com
90 trails, including eight snowshoeing/cross-country trails. Daily ski and snowboard lessons for children as young as 4. Day care available for children ages 6 months to 6 years.
Whiteface, The Olympic Mountain
Route 86, Wilmington, NY
518-523-1655, www.whiteface.com
85 trails, 11 lifts, and several terrain parks at this U.S. Olympic training site. There are expert trails as well as a Kids Kampus for kids and families just learning to ski or board. Lessons for ages 4 and up, and all skill levels. Nursery available for ages 1 and up.
Also see our complete 2010 Where to Ski/Snowboard Guide for NY, NJ, CT, MA, PA, and VT